FlashFill Friday: Marina, her Husband, and his Best Friend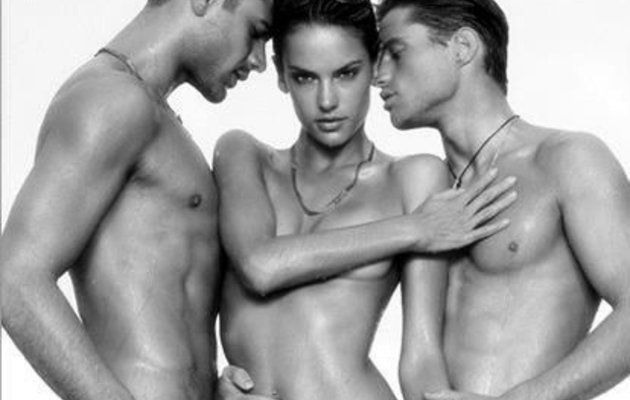 This is a contemporary non-myth piece I wrote for a 1000 word commission:
Husband and his best friend and business partner from the perspective of the female.
Husband and wife are into trying new things. It is well known that the single best friend has an experimental past.
Commission me here!
My supporters on Patreon got to read this short a month earlier and also have access to longer commissions that will not be available for free.
Join my Patreon today!
Better in Threes
"You know I've always wanted to try a threesome. Being worshipped by two guys… watching you take him..." Marina grinned. The petite woman saw her husband's dark eyes gleam when he heard the lust in her voice.
"Henry would be up for it."
"What makes you so sure?"
"We've been best friends since school. Let's just say he has an... experimental past."
~~~
Marina lay on the large bed she usually shared with her husband, dressed in seductive lingerie. She heard the voices of both men coming closer. Denny opened the door and welcomed his friend and business partner inside. Henry was good-looking with playful green eyes and curly dark hair. He was of a toned, wiry build and Marina wondered if he could lift her and what his cock would look like underneath those stylish slacks. Marina rose to embrace Henry and placed a kiss on his mouth. He should feel how much she wanted this. Denny spoke about some triviality from work while Marina offered Henry a glass of wine. He took it with a warm, friendly smile.
"Have you done this before?" she asked, offering the man a place on the bed beside her.
"Not with Denny." He took a sip, taking in the curves of her sensual body. "But when he asked me, how could I've said no?"
"I'm glad."
He gave a smirk and drank another sip of wine. She took the glass from his hands and edged closer. Her small hand pressed against his chest, feeling the toned muscles even through the fabric of the crimson shirt. He seemed surprised when she kissed him. But he reacted promptly, pulling her close and sweeping her up in his arms. Marina was pleased. He was la satisfying kisser. She waited for him to touch her as well when Denny joined them on the bed.
"Shall we start?"
Marina slipped from Henry's embrace and made herself comfortable on the bed as she watched her husband undress him. Underneath the shirt were a set of defined pectoral muscles and falling slacks revealed dark curls around his cock, rising over smooth, depilated testes. Marina would have liked to pinch his arse, but Denny did it for her, both hands on his friend's bum cheeks. He was hard already, his cock pointing skyward. As Marina knew well, he was easy to excite.
Denny put their clothes away and Marina took a sip from Henry's wine, admiring their bodies in the cosy dimmed light. The curve of her husband's arse that she knew so well, his beautiful black hair, his strong back and shoulders. She saw the excitement in his joyous eyes. Henry was more toned than Denny, slim, but not overly muscular.
"I am so horny for you." she heard Henry whisper, caressing Denny's broad, hairy chest. Her husband produced the bottle of lube and squeezed some into his hand.
"I won't let you wait."
Henry knelt down, finding comfy support on the bed while Denny spread his cheeks a little to work in the lube. Marina blushed as she watched his nimble fingers. She could see that Henry loved the touch of those slick fingers in and around his arsehole and she was getting quite slick herself.
"Do you like it this way?" Denny asked, circling a lubricated finger around his best friend's anus.
"Yes..." replied Henry, his eyes half-closed. He moaned softly when Denny kept caressing the sensitive skin around the opening, sliding in and out of his hole. "Ohhh..."
Marina enjoyed the show. She moved on the bed so she could get a good look at Henry's cock. He was a bit longer than her husband, but of lesser girth. The foreskin still covered him, but from the tip drops of pre-cum were dripping on the floor.
"Are you ready?" Denny gave his partner's arse a friendly slap.
"Yes!" Henry replied eagerly.
Denny spread more lube on his cock and guided his cock between Henry's cheeks.
"Hnnn..."
Marina's fingers wandered to her swollen folds. The erotic display in front of her was making her so wet, she couldn't help but touch herself.
"Oh, yes!" Henry closed his eyes and moaned loudly. "Faster!"
Denny complied. Marina's movements were speeding up as well. Watching her husband take his best friend was more arousing than any porn film she had ever seen.
"I'm about to come!" groaned Denny, much too soon for Marina's taste. She heard him give a throaty moan when he spent and watched the twitch of his loins as she crashed into a powerful orgasm herself. When she came to, Denny was still fumbling with his shrinking prick. She grinned seductively.
"Now it's my turn, boys!" She slid the soaked panties over her thighs. "Pleasure me while you recover."
Henry crawled on top of the bed and between her shapely legs. He steadied her hips and began licking her folds like a kitten. Denny appeared beside her with a hungry kissing her on her mouth. She loved his taste. But he didn't linger on her lips for long. He kissed down her neck, leaving moist skin and tongued the hollow of her collarbone. Meanwhile, Henry was exploring her vulva with tentative movements of his tongue, giving soft, light licks along and between the labiae and around her slick opening. He gave some indirect stimulation to her clit as well, but he was very gentle. Denny not so much. After his kisses had reached her left breast, he engulfed her nipple and sucked strongly. Marina cried out, half in surprise, half in pleasure. His lips tightened around her teat, almost to the point of pain. He got quite rough when he was horny and she liked it rough. Her nipple responded to his stimulation and he gently nibbed at it with his teeth. Marina sighed in pleasure. Henry was giving her more assertive licks now, going all the way down from her opening up to the top of her vulva. His tongue was warm and soft and so very precise in it's movements. He sucked gently on her clit, teased it with a few dips of his tongue before diving between her engorged folds again. Marina felt ecstatic with two handsome men servicing her at the same time, both doing their best to please her. She let out a happy moan to let them know they were doing well. Her body was flushed and aroused on every level, the licks of her two lovers absolutely divine. She revelled in the sensations of pleasure, wishing they would never end. Denny switched to her other breast, kissing it tenderly before getting rougher in his play. When Henry finally went for her clit directly, she was so ready for it! He sucked and licked her into thrilling ecstasy.
"Harder!" she breathed and both, Henry and Denny responded to her request, until she was shaken by an orgasm so intense clear liquid squirted into Henry' mouth. She almost threw Denny off with the wild thrashing of her body. Both men looked at her expectantly.
"Another?"
FIN
Thank you for reading "Better in Threes"! Did you like this story? Do you want to read more? Find my free shorts here and all my books here!
If you want to commission a story too, you can send me a message here or DM me on Mastodon.
Join my Patreon or become a member to read all commissions, from shorty shorts like this one to full-length novellas.
Also, you may want to consider subscribing to my official mailing list to get free stories, previews, discounts and more!