This is just a short article based on a Twitter thread I put together when Roe v. Wade was overturned in the US in June 2022. Since then, authorities have been cracking down on women in the UK as well, requesting data from menstrual tracking apps after unexplained pregnancy losses. Most European countries put a limit to abortions at 12 or 14 weeks of pregnancy, even if elective abortion is legal.
For those of you who are not directly affected, I still ask you to think about whether or not you want the very personal data stored in period tracking and fertility apps to be on someone else's computer, connected to and accessible via the internet ("the cloud").
Own your data. I know, back-ups are a pain. I know data safety always comes at the price of convenience. But this data is more sensitive than you might think. Protect it. 💖
Roe v. Wade Overturned
If period tracking data is stored locally on your actual device, Evan Greer, director of the digital rights advocacy group fightforthefuture.org, says that a court would need a warrant to search your phone, which has "a much higher legal bar" to obtain than a subpoena. If period tracking data is stored in a cloud server and owned by the company, a subpoena would suffice.
Track Your Period Without Your App Tracking You
These apps store data on your device only. Consider switching, even if you are not affected by anti-abortion legislation.
Drip
This is the app I am actually using myself to be reminded when the next period is rolling around but technically I could also use it to record relevant data for NFP (Natural Family Planning) like body temperature and cervical mucus or add a libido, mood, and/or pain diary.
The app is easy to use and will return some basic analyses on cycle length and probably the NFP data too if I were putting them in. You can choose a password to restrict access and manually export and import the data stored on your device.
Drip is available for Android and iOS.
Learn more here: https://dripapp.org/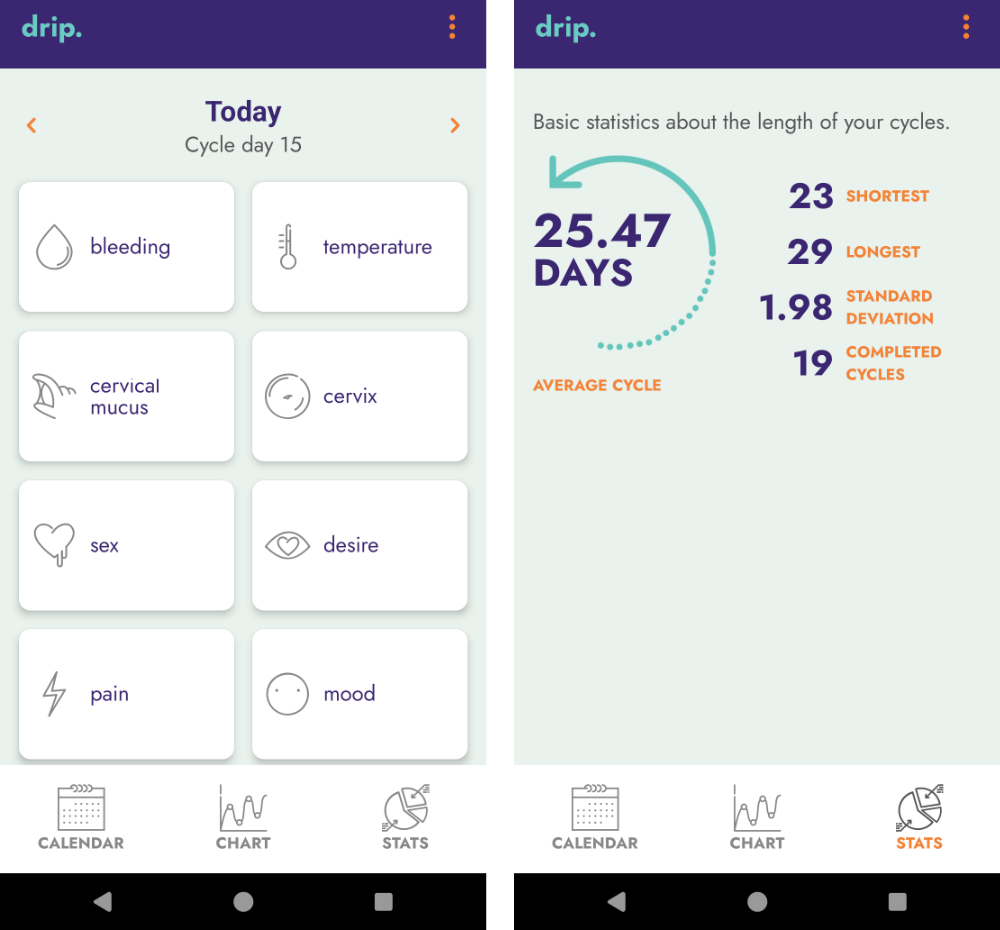 Euki
I installed Euki too but I felt it was aimed at younger users with more features than I needed so I kept using Drip instead. It is still a good app with cute icons and educational information about the body and sexual health (including abortion). But the most important safety feature Euki offers over the other apps is the optional use of a PIN code to protect the data you entered even if someone physically accessed your phone. What's more, if someone asks you to open the app, you can enter a certain code instead of your actual PIN so fake data will be shown.
Euki is available for Android and iOS.
Learn more here: https://eukiapp.com
Read another review of Euki here.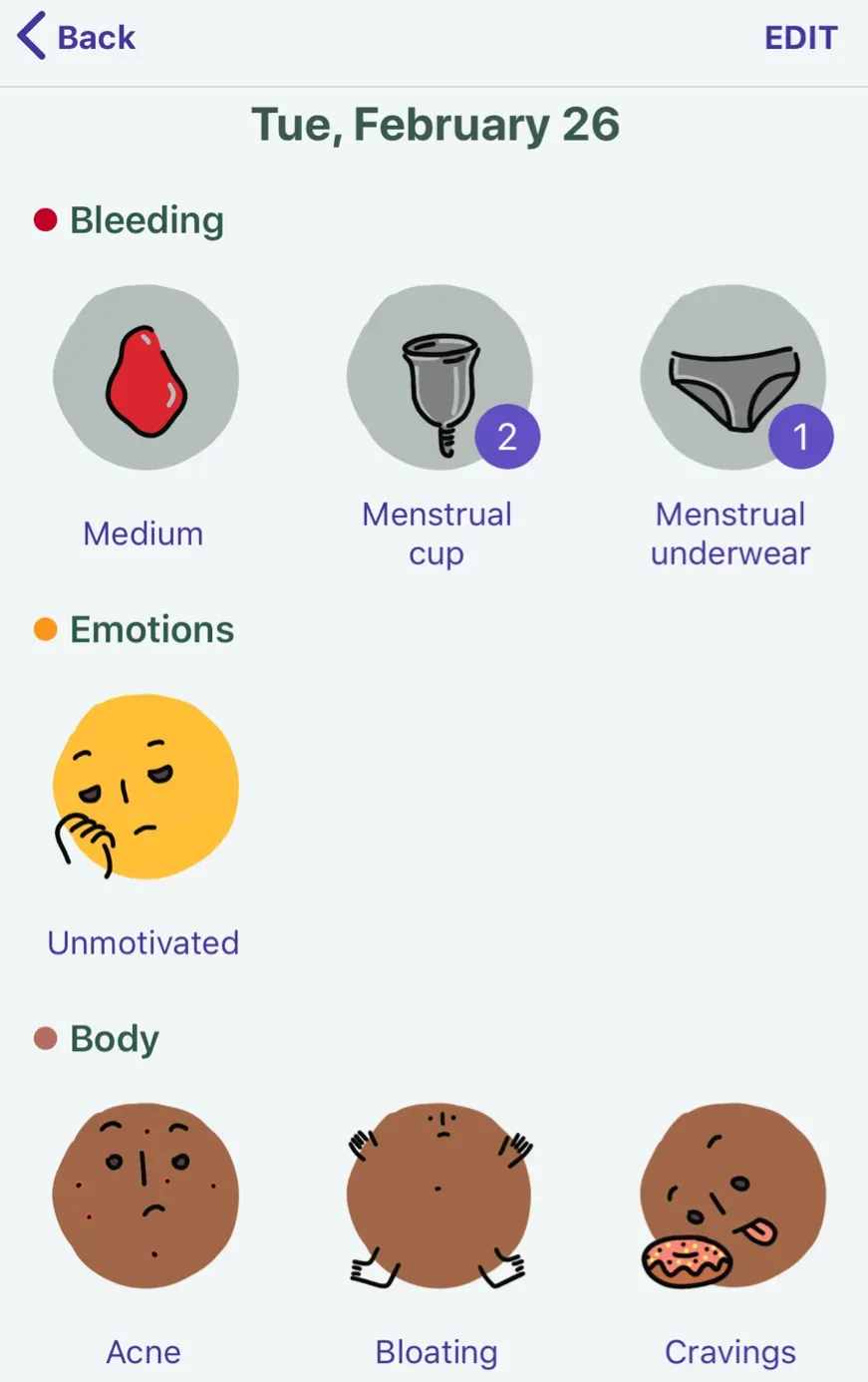 Periodical
Periodical is the most basic app out of the three and certainly the least pretty. But it's lightweight software that is suitable for older devices and it gets the job done all the same, without bells and whistles.
One notable thing is that back-ups can be created and restored, making it easy to keep your data when switching devices or saving a back-up at home and deleting the data on the phone while travelling to a place that isn't safe. You can set the default length of your period so it will assume e.g. a 3 day length every time you put in the first day of bleeding. You can enter additional information like flow intensity, mood, pain and more, like with the other apps. When you enter a full cycle it will start predicting phases of the cycle but it's not recommended as a tool for birth control because unlike Drip, it doesn't include analysis of body temperature or cervical mucous, the combination of which makes NFP reliable.
Periodical is available for Android only.
Learn more here: https://arnowelzel.de/en/projects/periodical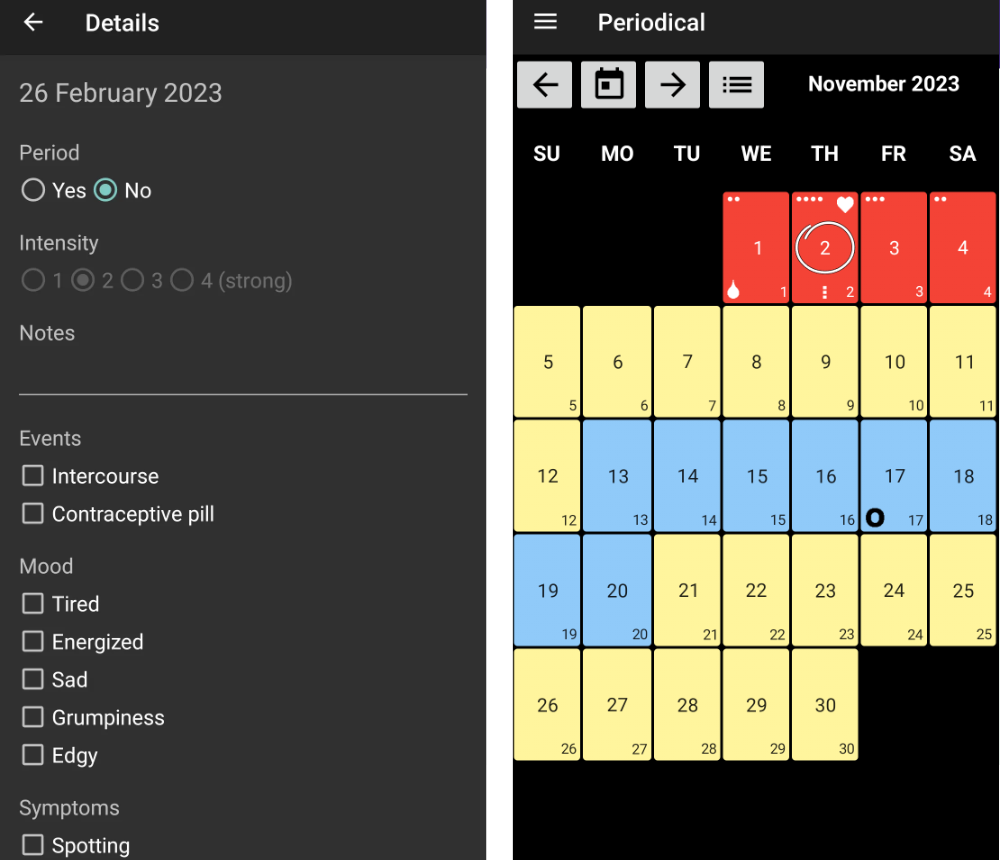 I hope you found this helpful, even if it's not usually the focus of my work. I will always speak out for reproductive rights and I want everyone affected by anti-abortion legislation to be as safe as possible. Below are a few resources in case of emergency:
Women Help Women, a global telehealth service
Global list of hotlines for abortion access and counselling